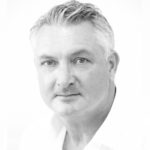 Alan Gordon
Co-Founder, Chief Marketing Officer
Alan is regarded as a creative leader and academic teacher providing customer experience strategies and brand marketing and communications solutions to Sovereign Owned Entities in the Middle East and major international brands on a global scale. Alan has been based 23 years in Dubai, where his work in the field of 'Creative Expression', has taken him across Europe, USA, South Africa, Australia and the Middle East and Levant (UAE, Qatar, Oman, Lebanon, KSA).
During his career he has led the marketing efforts within major organisations, including the Al Futtaim Group, The Tourism and Development Company, providing marketing leadership for the Louvre Abu Dhabi and Global Village in the UAE. He has also managed marketing and events agencies servicing brands such as Pepsi Cola, Toyota, Lexus, Honda, Hertz, IKEA, M&S, and Panasonic to name a few.
Alan has an honours degree in design and communication, is honorary chairman and marketing lecturer at EMDI Institute of Media and Communications in Dubai, UAE, and is a fellow of the Chartered Institute of Marketing.
In Payar, as Chief Marketing Officer, Alan oversees the strategic marketing, customer experience and brand development.
back