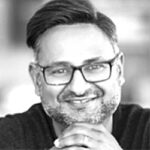 Hash Ladha
Advisory Board
member
An experienced CEO and board level executive, with a proven track record in leading and growing omni-channel businesses. A passionate leader, who understands the importance of creating shareholder value and who forms exceptional relationships with senior leaders across organisations, the industry and strategic partners to help advance the strategy and commercial objectives of a business.
Hash has successfully created differentiated customer propositions, developed brands and accelerated sales. Has personally run integrated channels (digital, retail, wholesale, international, licensing & brand marketing) with an intelligent, customer driven, innovative and disrupter mentality and focus. Has experience of ownership for all support functions including finance, IT and HR as well as accountability for design, buying, and merchandising.
His career highlights include Group CEO Oasis and Warehouse Group, Group Multi-channel Director Aurora Fashions, Marketing & Operations Director ASOS.com, and he holds an LLB (Hons) in Law, from the University of Wales.
back