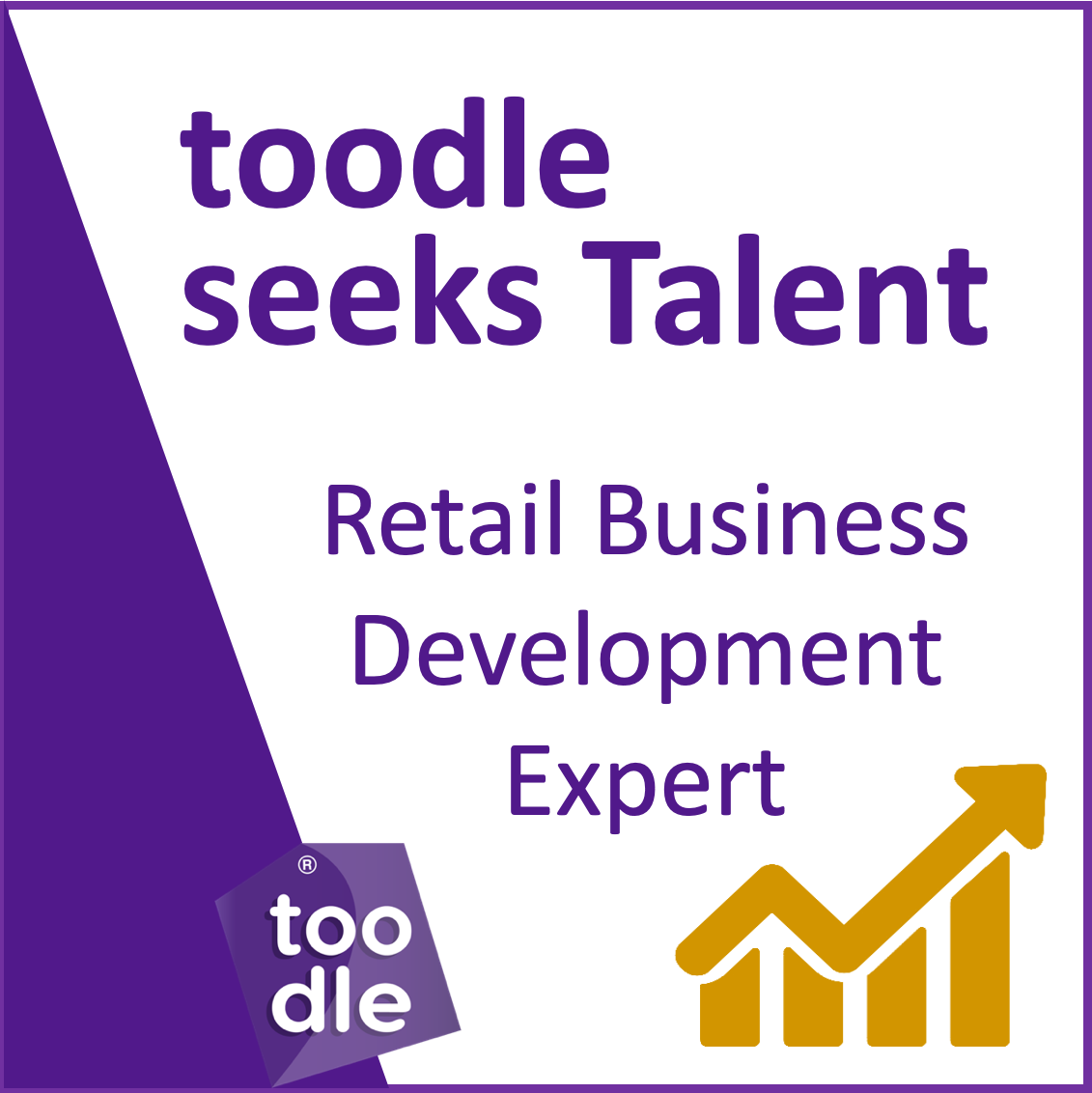 The toodle team is growing!
BizDev Partnering
Would you like a goal-orientated career with flexible hours to fit around your stay-at-home lifestyle? Do you feel you are a network-connected individual who has much to offer in the retail or hospitality sales sector?
If yes, then meet 'toodle', the new-to-market multi-merchant mobile shopping & dining App combining offline & online (O2O). This innovative App allows consumers the option to conveniently purchase within a digital or physical environment, while merchants benefit from instant access to an m-commerce platform at zero cost capital investment.
We are looking for enthusiastic, motivated and well-connected business development experts in the retail or hospitality industry to join the toodle teams in the UAE and UK. As a toodle BizDev team member you are responsible for driving the pipeline, through identifying and signing merchants onto the toodle shopping & dining platform.
Experience
• A minimum of 5 years' experience, preferably in a sales or customer service environment in the retailing or hospitality industry
Focus areas
Business Development
• Manage the B2B sales process from lead generation through to closing deals
• Assist the toodle on-boarding team to move new merchants onto the App with live operations
toodle Sales Development
• Roll-out the 'toodle staff incentive' scheme with scan / serve stores
• Jointly with merchants and the toodle marketing team generate and implement ideas such as promotional & social campaigns in target communities
• Develop new business with existing merchants – e.g. open new stores/outlets in different geographies/communities
toodle Market Development
• Identify opportunities for toodle use in the marketplace
• Develop targeted 'use cases' jointly with marketing that explain the toodle benefits to specific potential merchants
• Identify and relay to marketing unique success stories of 'toodle in action'
Scope and boundaries
• Prime merchant target profile: Hospitality/F&B, Fashion Retail, Supermarkets/Convenience
• Work within a set geographical area / community
• Create multi-toodle use opportunities for toodle end-users (community focus)
Skills and expertise / candidate profile
• Entrepreneurial skills; self-driven, self-motivated, accountable, self-starter and self-sufficient, independent, mature and responsible work ethic
• A "can do" mentality – demonstrate a real passion for making things happen through creativity and innovation
• Organised, methodical and self-disciplined approach to work
• Flexible personality thriving in fast moving business environment
• Ability to communicate at all levels from grassroots to board level
• Ability to effectively present information in one-on-one and small group situations
• Demonstrates a passion for understanding practices, trends and technology affecting the retailing and hospitality industry and the marketplace as a whole
Show more
The BizDev role is a contract role, initially retainer based progressing to a commission based structure aligned to successful merchant on-boarding and transactional growth. Multiple positions immediately available.
If the above is of interest, you qualify and would like to join a dynamic team on an exciting journey then please send your credentials to: talent@toodleteam.com by email and mention Reference: BizDev – UAE or UK in the subject.
back
The toodle team is growing!