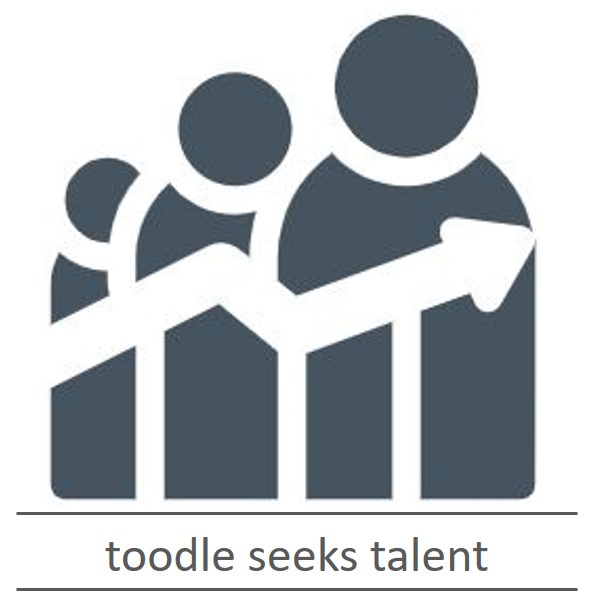 The toodle team is growing!
Business Development
We are looking for enthusiastic, motivated and well-connected business development experts in the retail industry to join the toodle team in Dubai.
The toodle business development team is responsible for driving the pipeline, by identifying and signing of merchants onto the toodle platform and they play a critical role in the commercialisation of the toodle App.
Experience
• A minimum of 10 years experience, of which at least 5 years' business development experience in Dubai at management level, in a B2B context in the retailing, or e-commerce industry
Responsibilities
Business Development and Sales
• Manage the Business Development process from lead generation through to closing deals
• Obtain Go-NoGo approvals from the Business Development steering committee
• Work with the onboarding team to move new merchants to live operations
toodle Sales Development
• Influence and persuade merchants to engage with their customer base to generate repeat business
• Generate ideas to support Social Media / Marketing team on targeted merchant/community specific concepts to generate App downloads and increase revenues
toodle Market Development
• Develop targeted 'use cases' jointly with marketing that highlight the toodle benefits to specific potential merchants
• Identify and relay to marketing unique success stories of 'toodle in action'
• Identify innovative opportunities for toodle use, with emphasis on providing 'time and convenience' to consumers, in the marketplace
Scope and boundaries
• Operate within a set geographical area
• Create multi-toodle 'use' opportunities for toodle App end-users
• Prime merchant target profile: tier 2 and 3 | independents / SMEs
Operational structure
• BD team members report into the Chief Marketing Officer
• Weekly team meeting
• Top line weekly report
Skills and expertise / candidate profile
• Access to retail merchant network in Dubai and preferably broad based retail commercial operations experience
• Strong background in exceeding sales targets and KPIs
• Proven ability in increasing customers (Merchant Partners) and consumer (Users) engagement and loyalty
• Proven ability to communicate, sell and close business at all levels from Grassroots to Board Level
• Entrepreneurial mindset and skills; self-driven, self-motivated, accountable, self-starter and self-sufficient, independent, mature and responsible work ethic
• A "can do" mentality – demonstrating a real passion for making things happen through creativity and innovation
• Organised, methodical and self-disciplined approach to work
• Demonstrates a passion for understanding practices, trends and technology affecting the e/m-Commerce business, the Retailing industry and the marketplace as a whole
• Ability to effectively present information in one-on-one and small group situations to customers (Merchant Partners)
• Analytical ability to interpret data and create insights for new ideas
• Flexible personality thriving in fast moving business environment
Show more
The BD role is a contract role, we will consider employment of suitable candidates as well | multiple positions immediately available.
If the above is of interest, you qualify and would like to join a dynamic team on an exciting journey then please send your credentials to: talent@toodleteam.com by email and mention Reference: Business Development – Dubai September 2019 in the subject.
back
The toodle team is growing!