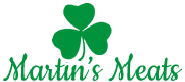 Merchants
Martin's Meats
Martin's Meats has been around since 2013 and started as just a part-time activity supplying produce to friends and family.
Christmas was extremely busy due to word of mouth and this is when Martin decided to pursue this as a growing business. Martin always liked the old idea when the milkman delivered your milk daily and we bought groceries from people we knew on a first-name basis and this is his business model.
He undertakes all first deliveries for new customers himself and many a chat he has with customers over a cup of tea just getting to know them. Being Irish he is full of the "blarney"
Business Model is very simple – "The right product at the right price, delivered with convenience to your front door"
Small margins, happy customers, repeat business and word of mouth referrals
Show more
View the Terms and Conditions of Service and the Privacy Policy under which we operate the toodle powered shopping experience
Visit www.martinsmeats.me for further details about our organization.
Contact us on: +971 (0)55-377 8714
back