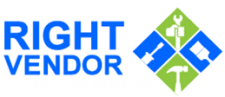 Merchants
Right Vendor
Our commitment to excellence, professionalism and value is strengthened by our extensive industry experience, ongoing staff training and investment in the most effective up to date equipment.
We focus on developing close working relationships with clients so as to fully understand their requirements, aspirations and priorities.
Our commitment to open and frequent communication underpins our aim to provide an effective service, enabling clients to focus on the delivery of their key objectives. As our organization continues to expand its diversity of services as well as our client portfolio
Contact details: +971 (0)4-566 8045 | info@rightvendor.ae
Opening times: Daily: 24 hours
Refunds and Exchanges
For Annual Maintenance Contract customers – We do provide a Termination clause that empowers our client to cancel the contract if the service request has been not responded/addressed.
Show more
back