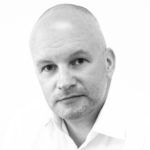 Peter Roest
Co-Founder, Chief Technology Officer

Peter is known as a high-energy, steadfast and highly experienced senior level executive with strategic vision and hands-on leadership experience in managing complex operations in emerging market environments. He has over 25 years of experience gained in operational leadership and management roles in large blue-chip multinational organizations in the biotechnology, pharmaceutical, logistics and automotive industries.
His key technical skills are in the fields of Strategy Development, Integrated Business Planning, Business Transformation & Change Management, LEAN & Operations Excellence, ERP implementations, and Business Process Reengineering.
Peter has spent a significant amount of his career overseeing large scale SAP ERP implementations, he is a Six Sigma and LEAN practitioner and has a Bachelor of Engineering from the Institute of Automotive Engineering in the Netherlands. He is also a Postgraduate from the University of Lincoln in England where he specialised in European Business Studies.
As Chief Technology Officer, he coordinates the development of the toodle technology ecosystem and the respective frontend mobile applications. As (interim) COO he manages the team day-to-day and he oversees the implementation of the global go-to-market strategy and the commercialisation of the product.
back