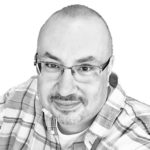 Saladin Aljurf
Legal Counsel
Saladin is valued by clients and peers alike for his judgement, insight, and ability to assess complex problems and find practical and efficient solutions to these. He has over 20 years of legal, regulatory, policy, and academic experience spanning the United States and the UAE.
While practicing in Washington, DC, Saladin advised the UAE Embassy on an array of legal issues affecting UAE visitors and students, and successfully negotiated on their behalf with the Department of Homeland Security, the Federal Bureau of Investigation, the Department of Justice, and with various attorneys general, prosecutors, and governmental departments throughout the country. Additionally, his practice saw Saladin engaged in commercial litigation, and was awarded a number of summary judgement motions on behalf of his clients, as well as voluntary dismissals by opposing counsel.
Saladin received his BA from the University of Iowa in English Literature and Religious Studies, his MA from the University of Texas at Austin in Middle Eastern Studies, and his JD from the University of Iowa. He is a member of bars of Washington, DC, Virginia, and the Fourth Circuit Court of Appeals.
As Payar's Legal Counsel, Sal ensures Payar's legal requirements are professionally structured and managed.
back